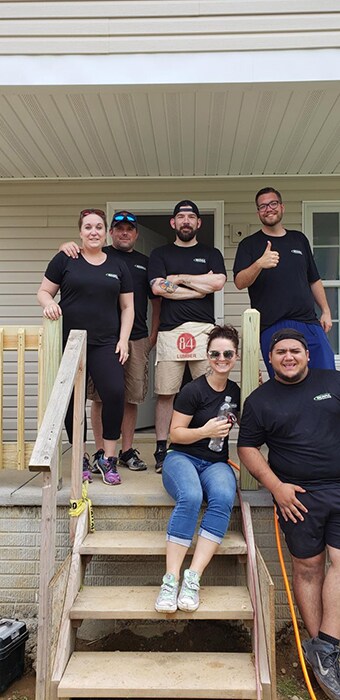 At Serra Auto Park, we care about what's going on in our local community.
We give of our time, and we also raise money for many organizations who are doing great things to make the Akron/Canton area a wonderful place to live.
One of the causes we love to help with is Habitat for Humanity.
Here's a brief history of Habitat and how we've been partnering with them.
History of Habitat for Humanity
Habitat for Humanity has been changing lives since 1976.
It was founded by Milford and Linda Fuller, who came up with the idea of "partnership housing" during their time living on a community farm in Georgia.
Habitat has grown into an international organization with a passion for working alongside those in need to provide them with affordable housing.
These homes are not free nor are they a hand out. The families chosen have to meet certain criteria to be considered.
They have to be willing to put in a certain number of hours of sweat equity, they must be able to pay the low monthly mortgage, and attend financial readiness classes.
There are Habitat for Humanity branches across the United States and all over the world – including right here in Summit County.
Habitat in Summit County
Our local branch of Habitat for Humanity Summit County has built over 200 homes and provided housing for more than 300 adults and 500 children.
Their mission statement highlights their commitment to helping families get a leg up:
"We are dedicated to making simple, decent, and affordable housing available in our community for low-income families in need."
Partnering with Habitat
Serra Auto Park was proud to partner with this amazing organization for the third year in a row.
This year, we helped with a build in Barberton, Ohio, installing windows, doors, and base trim on the house that would become a home for a local family.
Working with Habitat is just one of the ways we serve in our local community.
When you choose to purchase a vehicle from one of our Serra Auto Park locations, you're playing a role in our efforts to make our Akron/Canton area a better place.
Stop by and talk with a member of our friendly, People Pleasin' staff.