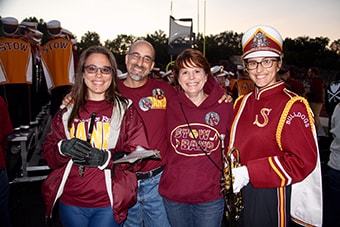 At Serra Auto Park, People Pleasin' isn't just a fun catchphrase.
We take helping our customers seriously.
We fill our team with people who are passionate about helping you find a vehicle that meets your needs.
We consider you family, so we want to introduce you to ours.
Carl Miragliotta has been a sales associate at Serra Honda for three years, and is in the process of transitioning to Serra Subaru.
He grew up in Long Island, NY and is a graduate of The Ohio State University. He became intrigued with automobiles at a young age and has worked in the industry for 14 years.
Carl has been married for 23 years and is the proud father of two loving and giving girls.
He enjoys traveling, and a highlight was driving a German race car when he visited the country.
Carl was nice enough to answer some questions and give some insight into what makes him tick.
Meet Carl
1. What's your favorite local food joint?
Bruegger's Bagels in Stow. I've been going there almost daily for 20 years.
2. Where can we find you on a Sunday afternoon?
Most likely grocery shopping or doing yard work. Sometimes we get away to a zoo or one of the many family attractions in the Cleveland/Akron area.
3. What was your first job?
I was a lab assistant at Stony Brook University in New York.
4. What's your most-used emoji?
? There isn't a day that goes by that I don't send this to my two girls.
5. What's the first concert you attended?
I'm going to skip the first one and tell you my second concert was Styx.
6. What's your hidden talent?
I have a sixth sense when it comes to people. I can easily see if they're genuine or not.
7. If you had to eat one thing for every meal, what would you eat?
Fresh strawberries
8. Knowing what you know now, what advice would you give your 18-year-old self?
Two things:
1) Don't be afraid to ask questions.
2) Do what you love and it'll never be just a job.
9.What would customers be surprised to learn about Serra?
It's very easy to do business at Serra. We know buying a car can be an arduous process. At Serra, we do our best to make it an easy, transparent, and enjoyable experience.