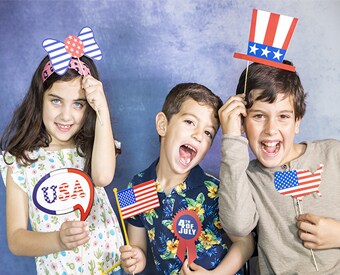 Everyone looks forward to the 4th of July.
You celebrate America's independence and get to have a ton of fun doing it.
Of course, the biggest part of the day is the fireworks show.
Here are some fun ideas for the whole family while you wait for the grand finale of your celebration.
1. Pre-party bike ride
Let's be honest. Food is a big part of most 4th of July get-togethers.
Why not get a headstart on burning some calories before you sit down to feast.
Gather the kids, your friends, or anyone else you enjoy riding with and get moving.
2. Host a block party
Why not invite the neighbors over and get to know each other better?
Make it a potluck so you don't have to provide all the food. Everyone will be happy to contribute and you'll get a chance to discover some new recipes.
3. Get crafty
Kids can get antsy when they're waiting for the big fireworks show.
Distract them with something fun and red-white-and-blue, like making a fun wreath or painting a terra cotta flower pot.
Don't be afraid to let the kids – big and small – get creative.
4. Go to a parade
Many towns have an annual 4th of July parade.
Check online for what's happening near you and enjoy the festivities.
5. Plan a trip
Maybe you're the type who likes to explore new places every chance you get.
It's always fun to experience the 4th of July traditions in a different location.
6. Make some red, white, and blue food
It's another chance for you to get creative.
Try strawberry cupcakes with vanilla frosting, garnished with blueberries or make a patriotic fruit display with blueberries, bananas, and watermelon.
You'll be able to find a ton of great ideas online.
7. Have a sing-along
Create some makeshift instruments (think pots and pans and wooden spoons) and sing the classics, like "Yankee Doodle," "The Star-Spangled Banner," and "This Land is Your Land."
You'll be giving the kids a history lesson, too.
Enjoy celebrating the U.S.A.
Put your own spin on these 7 ideas and make some memories this 4th of July.
If your ride needs an upgrade before you hit the road for vacation, stop in at one of our Serra Auto Park locations and take one of the latest models for a spin!
Happy Independence Day!