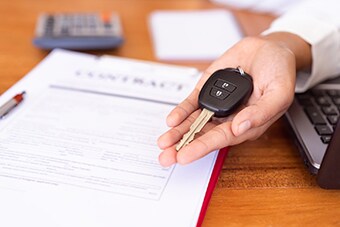 Sometimes life throws you a curveball.
When you first leased your vehicle, it fit right into your budget.
But things have changed and that payment is now a burden you need to get rid of.
Do you have any options? If so, what are they?
Here's what you need to know if you find yourself in this situation.
Returning the vehicle
You can choose to return the vehicle before the lease is up.
But this isn't an ideal option.
You'll still be responsible for the remainder of the payments, PLUS any penalties and fees that result.
There are a few ways you can get out unscathed, however.
Transfer the lease
If you're lucky enough to find someone to take over your vehicle lease, you're free to do so.
You do need to be aware that every automaker has its own rules and regulations about swapping a lease.
Before you advertise it or find a willing participant, check your contract to make sure you're allowed to do so.
Even if your contract allows it, you'll likely face a transfer of between $300-$500, though it's still less costly than early termination fees.
Buyout the lease and then sell the vehicle
You always have the option to buy out your lease at any time.
The leasing company will determine the cost you'll have to pay and you will probably have to pay a "buyout" fee, but you won't have to worry about the added cost for wear and tear.
Once you've bought the vehicle, you're free to sell it.
Trade in your car for a different one
This option is the best for a scenario in which you simply want a different vehicle and NOT because you're facing a financial difficulty.
You'll pay an "early exit" fee, but it will be included in the payments for the new car.
Get advice from the experts
You do have options if you need (or want) to get out of your current lease.
If you're not sure which choice is the best for your situation, it's a good idea to talk to an expert.
Stop by any of our Serra Auto Park locations and let our knowledgeable and friendly staff help you make a plan!