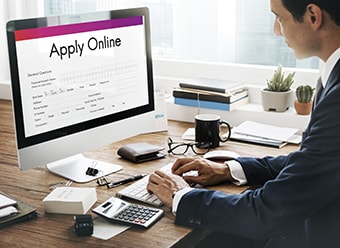 There's no doubt that the internet has revolutionized the way we do almost everything.
Including an online credit application.
The question is SHOULD you do it? Or do the risks outweigh the benefits?
Like everything in life, there are pros and cons.
Let's take a deeper dive and see if the risks outweigh the benefits or vice versa.
Pros of an online credit application
There are two major advantages of doing your credit application online.
One is probably obvious: convenience.
A little click-click here and a click-click there and your application has been submitted.
You don't even have to drive to the dealership.
The second benefit of completing your auto loan application online is that you can take your time to make a decision without any pressure.
Buying a car can be stressful and working through the finance process from the comfort of your own home can allow you to think about your options without feeling like someone is waiting for you.
Cons of online credit apps
You may be wary of completing your credit application online because you're worried about a hacker getting ahold of your sensitive information.
Identity theft is a valid concern in the age we're living in.
What you may not realize is that paper applications are just as vulnerable – if not more – than online apps.
Reputable car dealerships use sophisticated encryption software to ensure your data doesn't fall into the wrong hands.
On the other hand, it's not unheard of for businesses to improperly dispose of information, leaving it vulnerable to theft.
Work with a reputable car dealer
When you trust your car-buying experience to a dealership you can trust, you won't have to worry about your credit application falling into the wrong hands – either online or on paper.
The bottom line is that you should handle your financing in a way that gives you the most peace of mind.
Weigh the pros and cons and get solid advice from reputable sales and financing staff like the ones at your local Serra Auto Park locations.
Let us help!