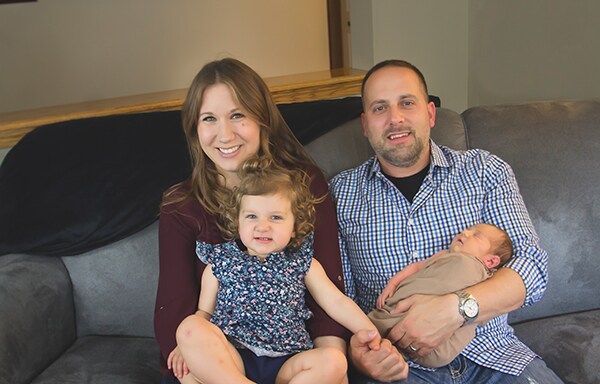 This month's Serra employee spotlight is all about People Pleasin' X 2!
Casey and Adam Dugan aren't just two AMAZING sales associates – they're also married.
Adam joined our Serra family first, starting at Serra Honda in 2003.
Casey came on board at our Subaru location in 2009 and Adam made the switch to Mazda/Subaru in 2011.
The happy couple was kind enough to answer some fun questions so you can get to know them better.
All About Adam and Casey
What's your favorite local food joint?
Bistro of Green
Where can we find you on a Sunday afternoon?
At home, spending time with our two little ones.
What was your first job?
Casey: Telemarketing for the company my mom worked for.
Adam: Unit Assistant at Aultman Hospital
What's your most-used emoji?
Casey: I use the two heart emojis all the time. Adam doesn't have one.
What was the first concert you attended?
Casey: Mine was Boyz II Men at Blossom in 1994. It turns out Adam was there, too. It was going to be another 17 years before we actually met.
What's your hidden talent?
Casey: Adam's is still hidden. I'm pretty good at making all sorts of crafty-type things. For the most part, if someone can think it up, I can make it.
If you had to eat one thing for every meal, what would you eat?
Adam: Pie
Casey: Pasta
Knowing what you know now, what advice would you give your 18-year-old self?
Casey and Adam: Don't be in such a hurry to grow up and take your parents' advice.
What would customers be surprised to learn about Serra?
Even though Serra Automotive has nearly 40 dealerships nationwide and ranks among the top 10 privately-held automotive retail groups in the nation, it is still a family-owned company and prides itself on giving our customers that small dealership feeling and level of service.
How long have you been together?
We started dating in 2012 and got married in 2013.
What's it like working with your spouse?
It's a lot like working with anyone else except you can pass the grocery list off to the person who is leaving first!
We are both with our customers most of the day so there isn't really time to chat with each other.
The best part is we know how the other person works and communicates. That makes it easy for us both to work for the same customer quickly and seamlessly.
Stop in and see Adam and Casey's friendly faces at our Serra Auto Group location!