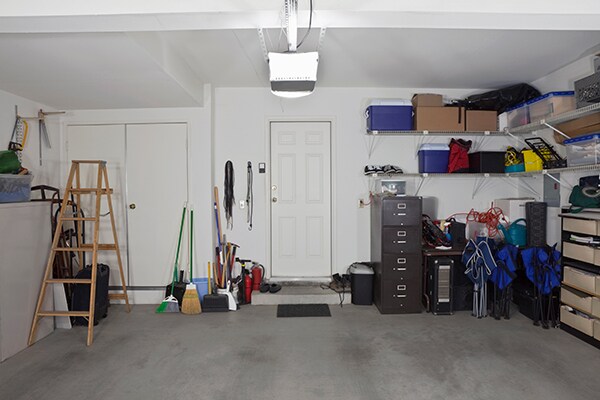 "Spring cleaning" doesn't just refer to the inside of your home.
Your garage probably needs a bit of sprucing up, too.
Plus, once you've given your vehicle its spring makeover, you don't want to park it in a cluttered, messy space, right?
Here's what you can do to make your garage worthy of your clean car.
Ask for help
There's nothing wrong with enlisting some extra sets of hands – especially if you have a family who is partly responsible for the mess.
Make a plan and assign jobs to each willing helper.
You won't get burned out as quickly and the job will fly by.
Start with decluttering
Take everything that's not built in or nailed down out of the garage.
This serves two important purposes:
You can give the area a thorough cleaning from top to bottom.

It's easier to see what you have and decide what needs to stay and what can go.
Don't put anything you're not keeping back in the garage or you've defeated the purpose of your hard work.
Sweep, hose, and scrub
After everything is out of the garage, it's time to clean it.
Start by sweeping the entire floor and wiping down walls and any shelving or storage furniture that's staying.
Wash the windows and scrub the floor.
Finally, hose the floor down so there's no residue of dirt or cleaner.
Assess your storage systems
Is there a home for each item that needs to live in the garage?
Decide if your current organization system is working for you and if it will continue to be the best way to store your items moving forward.
Change whatever you need to ensure your garage is a functional, pleasing space.
A garage that's fit for a king (or queen)
Now that your garage is spic and span and organized, it's a space that's worthy of your vehicle.
If your clean and shiny garage gives you the urge for a new set of wheels, come see the folks at the Serra Auto Park for help!