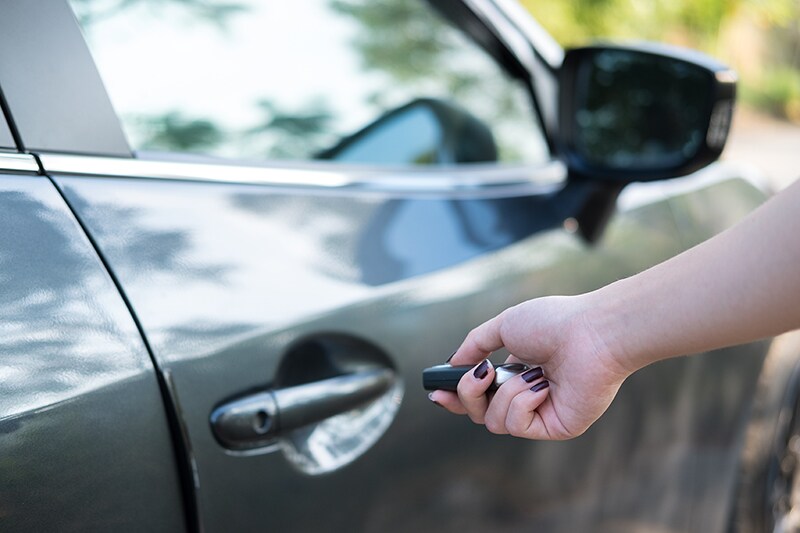 Having your car stolen probably isn't something you think about that often.
But, it's more common than you think.
Unfortunately, a vehicle is stolen every 44 seconds in the United States.
The bottom line is this: If you have a vehicle, you need to think about protecting yourself from theft.
Here's how.
1. Keep your keys close
You might think you're being tricky by hiding a spare key in your wheel well or somewhere else on the vehicle, but you're wrong – the criminals have already caught on.
It may be inconvenient to get locked out of your car, but it's not nearly as stressful as having it stolen.
2. Lock it up
Get in the habit of putting your windows up and locking the doors every time you get out of your car – even if you live in the safest neighborhood in town.
The extra heat on a summer day isn't worth leaving your windows cracked and giving a thief a chance to take your car.
3. Park smart
Well-lit areas are safer than dark corners, but it's even better to park near building entrances and security cameras.
If you leave your vehicle in a parking garage, make sure to get a spot as close to the attendant as possible so you don't risk theft or your personal safety.
4. Don't leave valuables in your car
Don't entice a car thief to your vehicle by leaving your purse, cell phone, or electronics in full view.
Even loose change can look appealing to a thief.
Once he's already broken in, he's more likely to decide to make off with your whole vehicle.
If you have to leave something in your car, stow it in the trunk where it's safely out of view.
5. Buy a car with the latest anti-theft technology
Many of today's new vehicles come with sophisticated anti-theft technology.
If it doesn't come standard, you can usually go with a higher model to get the latest in theft prevention.
Play it safe
When you're in the market for a new vehicle with the best anti-theft technology, come see the folks at a Serra Auto Park location for help!