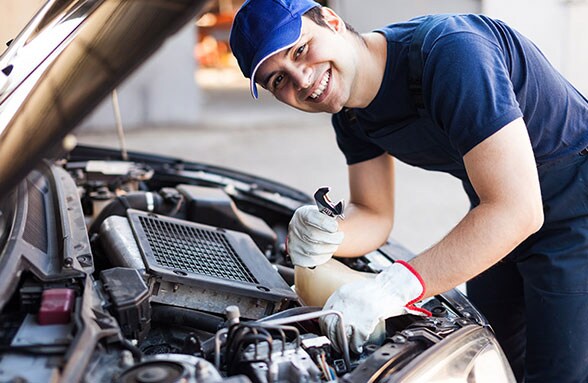 October has been designated as Car Care Month.
What's it all about?
The shift from summer to fall is the ideal time to remind you and other vehicle owners that the change in weather means it's time to give your car a checkup.
You want to make sure your vehicle is safe for you and the precious cargo you carry, and you want to be positive that your car is running as efficiently as possible.
Here are some fun facts to "celebrate" Car Care Month!
In 1668, Ferdinand Verbiest built the first automobile. It was powered by steam and it was just two feet long.Mary Anderson invented windshield wipers in 1905.
The idea came to her after she watched snow pile up on the trolley cars.
Honest Abe can help you figure out if your tires need to be replaced.
It's true! You can use a penny to inspect the depth of your tires' tread. Put the penny in one of the grooves with Abraham Lincoln's head down. If you can't you see the top of his head, it's time for new tires.
Before 1991, Americans faced a quarantine if they came into contact with an extraterrestrial vehicle or the driver of such a vehicle.
Don't believe it? Check out Title 14, Section 1211 of the Code of Federal Regulations.

It's time to give your vehicle the care it needs
This October, take the opportunity to give your car a little TLC.
Regular maintenance increases the chances that you'll be safe on the road and that your vehicle will run up to its highest potential.
It'll be more efficient, saving you some bucks and a whole lot of trouble!
At the Park Auto Group, we have our trusted mechanics standing by to give your vehicle the care it needs.
Time for an upgrade? We can help you with that, too!
Give us a call today!